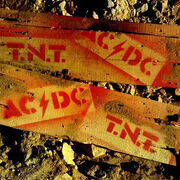 T.N.T. is the second studio album by Australian hard rock band AC/DC, released in December 1975. Seven of the album's nine songs were written by Angus Young, Malcolm Young, and Bon Scott. "Can I Sit Next to You Girl" was written by Young & Young, and "School Days" is a cover version of a Chuck Berry song.
It was originally released on Albert Productions, and was never reissued by another label. However, most of its contents were included on Atlantic Records' High Voltage album, which was released internationally in May 1976.
All songs composed by Angus Young, Malcolm Young, and Bon Scott, except where noted.
Ad blocker interference detected!
Wikia is a free-to-use site that makes money from advertising. We have a modified experience for viewers using ad blockers

Wikia is not accessible if you've made further modifications. Remove the custom ad blocker rule(s) and the page will load as expected.