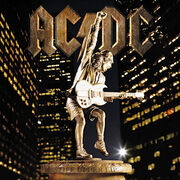 Stiff Upper Lip is the 15th Australian and 14th international album by Australian band AC/DC; it was released in 2000. The album was recorded at The Warehouse Studio in Vancouver, British Columbia and mastered at Sterling Sound in New York City. The album was produced by George Young, older brother of Malcolm and Angus Young. The three singles to be released from it were the title track, "Safe in New York City", and "Satellite Blues". These three songs plus "Meltdown" and "Can't Stop Rock 'n' Roll" were played live on the subsequent world tour.
This album was re-released in the U.S. on 17 April 2007 as part of AC/DC's remasters series. It was re-released in the UK in 2005.
The album is currently certified platinum in the US for sales in excess of 1,000,000 copies.
[1] Contents [hide]
1 Track listing
2 Personnel
2.1 Certification
3 Tour Edition
3.1 Track listing
4 Video
4.1 Notes
4.2 Additional personnel
5 Charts
5.1 Album
5.2 Singles
6 References
[edit]
Track listing
All songs by Angus Young and Malcolm Young.
"Stiff Upper Lip" – 3:34
"Meltdown" – 3:41
"House of Jazz" – 3:56
"Hold Me Back" – 3:59 *
"Safe in New York City" – 3:59
"Can't Stand Still" – 3:41 *
"Can't Stop Rock 'n' Roll" – 4:02
"Satellite Blues" – 3:46
"Damned" – 3:52
"Come and Get It" – 4:02
"All Screwed Up" – 4:36
"Give It Up" – 3:54