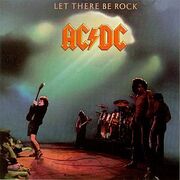 Let There Be Rock is the third international studio album by AC/DC, released in July 1977.
Originally released on Atlantic Records, this edition has sold over 2 million copies in the United States. The album was re-released in 2003 as part of the AC/DC Remasters series.
Let There Be Rock was the last album to include bassist Mark Evans who was later replaced by Cliff Williams with his debut in the album Powerage.
The australian version of the album included a song called Crabsody in Blue. A slightly shortened version of the song Problem Child replaced Crabsody in Blue in the international version, as well as switching places with Overdose.
Track listing
Edit
Personnel
Edit
Ad blocker interference detected!
Wikia is a free-to-use site that makes money from advertising. We have a modified experience for viewers using ad blockers

Wikia is not accessible if you've made further modifications. Remove the custom ad blocker rule(s) and the page will load as expected.