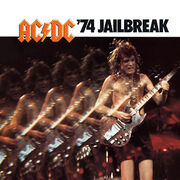 '74 Jailbreak is an EP by australian band AC/DC, released in 1984 (USA, Japan) and 1990 (Europe).
The EP includes the song Jailbreak, which was before only seen in the australian version of the album Dirty Deeds Done Dirt Cheap. There are also multiple songs from the band's very first album released only in Australia called High Voltage, released in 1975.
Track listing
Edit
Personnel
Edit
Ad blocker interference detected!
Wikia is a free-to-use site that makes money from advertising. We have a modified experience for viewers using ad blockers

Wikia is not accessible if you've made further modifications. Remove the custom ad blocker rule(s) and the page will load as expected.